SES Day 1 is in full swing. I started this morning giving a little tough love in the Express Clinic mini theater.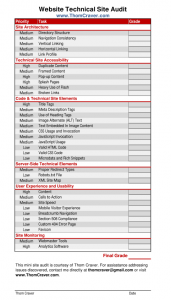 Taking volunteers who were up for the critique, four lucky received a 35-point inspection of their site broken down by six different categories. For each inspection point, they received a grade (A, B, C, D or F) and an overall grade for their whole site. Attendees even got to take home their grade report card!
This site audit clinic was just a mini preview of the full technical site audits I perform. All the major aspect of the site audit were covered. My full site audits actually investigate over 50 different aspects and dive deep into content related issues. With only 10-15 minutes per site, it was difficult to get into anything real deep on stage. But I certainly called out a lot of "low hanging fruit" that people could fix up real quite to get a good quick set of fixes with minimum effort.
Site Audit Tools
Throughout the presentation, I was continually asked which tools I was using. As promised, here's the list of what I used this morning:
Thank you to all my volunteers and the wonderful woman who brought me and my dying throat coffee!
If you're an SES Attendee, contact me with your 4-digit badge number from the front of your program book and you too can get $100 off a full site audit, even if you missed the Site Clinic! Use this convenient form to get your site audit now.