I'm a nut about Halloween – specifically designing Halloween displays for the neighborhood to enjoy.
It started with an accidental scare…
After scaring a friend of my kids' to a point where he literally couldn't move (even after he got his candy and a warm hello), I decided spooky, dark Halloween graveyard scenes weren't the right thing to do.
Since that year, I did nothing more than fun and whimsical ideas for our over-the-top Halloween displays.
Each year I try to come up with both a theme and cool gimmicks and props to go along with the theme. From Pirates to monsters, Harry Potter to Phantom of the Opera – we embrace the spirit of having fun and dressing up. In our case, it's the whole house with an entire, unified theme. We even try to match our candy with the decorations!
Idea collecting began on November 1st in our household. Pop culture ideas abound. We always try to think of things easily recognizable. Even if the details aren't perfect, everyone who walks up the driveway should understand the world they're entering. Or, at least, the parents should.
Enjoy the following. Under each year is a gallery or a link to a gallery. Many years have their own page. Click through the headings for more details.
2016 Theme: The Toxic Waste Barrel Incident
What would happen if the barrels in which our toxic waste were sealed leaked? Or broke open? We'll soon find out.
Here's the before picture of our 55-gallon drum barrels. I picked them up cheap from a nearby farm. They will get the appropriate treatment soon.
The scene:
An lab accident has caused these toxic chemicals to spill and disaster has ensued for all the scientists. Beware all who enter! Toxic fumes and dripping, gooey toxic waste abound!
Even the candy was Toxic Waste!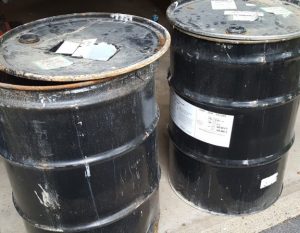 2015 Ghost Pirate Cove
After moving a second time in less than a year, we were whooped and had very little energy for building a huge spread. While there was a bit more time available to prep, a new job also made for a tight budget. Since we were again new to the neighborhood, we again thought it would be fine to re-use the popular theme. Besides, all of us in the family loved the Ghost Pirate idea in the past and wanted a chance to do it again (and again).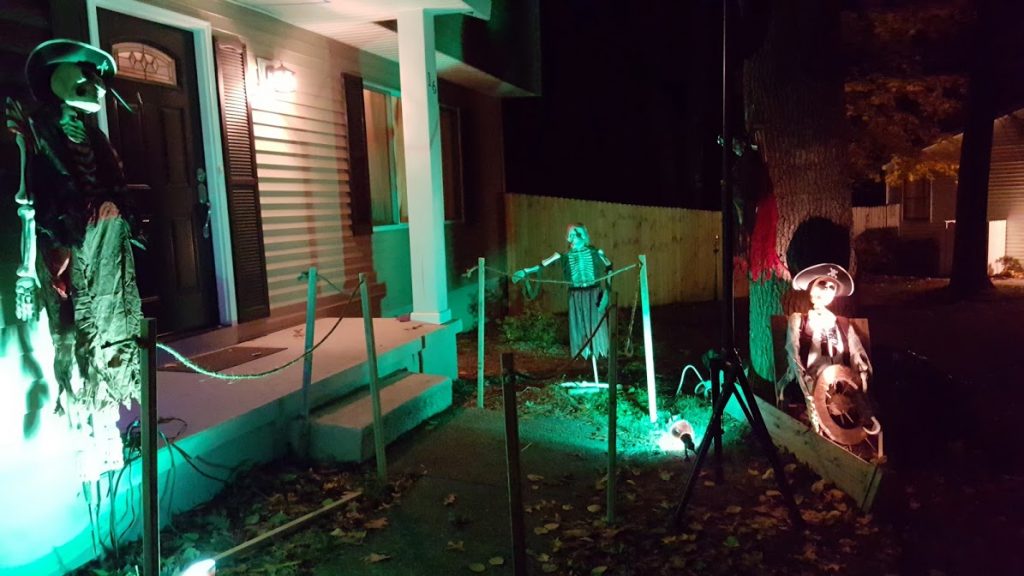 So, the 2015 Pirates' Cove idea was born. We also were down to only one working animatronic head after the move. We created a "cove" with pirates and wood plank and rope gangway lining the path to the front porch where more pirates awaited.  The flag flew high over the porch, well let from below. Lastly, we made a small ship made from a garden box frame was used for the little dingy that also held a pirate.
2014 Ghost Pirate Ship II
We moved just in time for the start of the school year. Time and budgets were short. And since we were in a new neighborhood each time, would be alright to re-use the theme. Particularly since the pirates were one of our favorite years!
With a more sturdy wooden frame, the 2014 pirate ship was definitely built to better withstand wind and elements. Due to boxes and moving just a before hand, we only built the bow of the ship, but we'll had four pirate skeletons. One hung on the lamp post a ways down the driveway before reaching the house. The pirate had a bottle in hand, with an animatronic skull slurring phrases every minute at passers by, enticing them to come up to "the ship."
2014 Halloween candy was a pirate's booty of Bubble Gum "gold" Coins.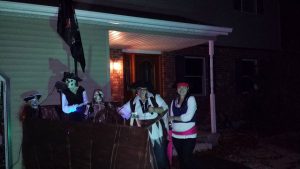 We tried to think of something new (to us) for Halloween 2015. While we never quite got behind any specific idea, we came up withsome sort of Alien Encounter.
I set out to create an over-the-top sized UFO in the garage. Ultimately it wouldn't fit through the garage door. Sectioning it nearly destroyed it, so it ultimately became slightly differently shaped and scoped and was "only" 15 feet in diameter.
With a 15-foot wide UFO and a pair of aliens on my front lawn, what more could I do than dress up as a member of the Men in Black (MIB)?!
The UFO "hovered" about 4 feet off the ground and had moving lights to simulate rotation. Below it, you could see where it left "crop marks" in the mulch and plant area where it landed. Thankfully, Halloween is late in the year and it was all going to die anyway. Or else I would have been in big trouble.
This was another one of our low-effort years. We did not use any talking skulls or props. Just some eerie music.
We also forewent themed candy this year, but we still had a lot of fun with smoke, lights and sound.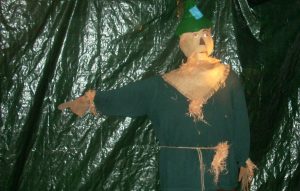 The Cowardly Lion and Tin Man were along the yellow brick driveway along with a singing, animatronic Scarecrow. As they passed walked the yellow-tinted path to the house, visitors passed a black hat, gown and a broom sitting in a puddle of water.
When trick-or-treaters got to the front porch, they needed to ask "The Wizard" for candy. A forboding floating head, surrounded by flames, the "Wizard" asked the trick-or-treaters what they really wanted (Candy, of course!). The man behind the curtain with the wireless microphone that controlled the Wizard's voice happily obliged.
Wizard of Oz Halloween 2012 Page »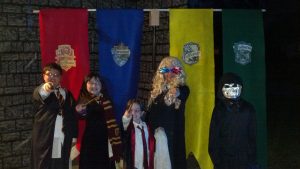 We recreated Hogsmede village using 8-foot by 8-food plywood facades. The garage was decked out as Hogwarts castle, with an 8-foot tall talking Hagrid greeting guest. Again, I hid and disguised my voice using a wireless microphone. Inside the "castle," visitors discovered floating candles, Honeyduke's finest chocolate (shipped direct from their satellite office in Hershey, PA) and a table with replica wands of all the major characters, meticulously recreated with paper and hot glue.
The family all dressed together as: Sirius, Professor McGonagall, Luna and Harry. Other friends joined in the action too.
View the Full Harry Potter Halloween Page »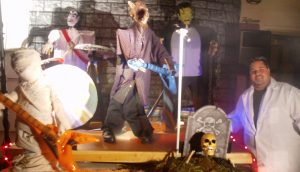 Animatronic Wolfman, Dracula, Frankenstien and The Mummy joined up with a skeleton lead singer rockin' the grave. The set list included "Monster Mash," "Ghostbusters," "Werewolves of London" and more!
Halloween 2010 Monster Concert Page »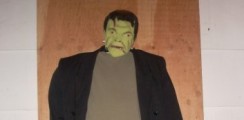 A mad scientist's lair, pickled snakes and eyeballs, various glowing chemicals and other ingredients. Slime literally oozed down the walls (eww) And, oh yeah, a 7-foot Frankenstein's monster!
Come to the 2009 Halloween laboratory »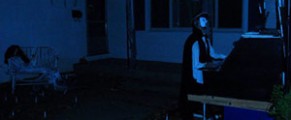 2008 was all about the musical. The scene contained dual fog machines, a yard full of candles, Phantom playing "Music of the Night" and "Phantom of the Opera" on the organ while Christine lay sleeping, and even a chandelier that crashed down upon unsuspecting guests! It was a last-second staging, but it came off well enough.
The Phantom Halloween 2008 Page »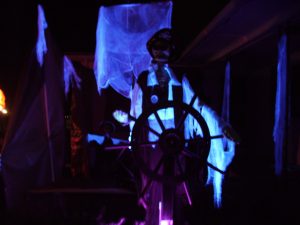 This is what started it all. We created a 10-foot tall pirate ship out of PVC and large brown tarps. Using Talking Thru Boris skulls, we had two, animatronic talking skeleton pirate props. Inside the "ship," dozens more set sail.
Kids had to enter the ship, where they were greeted by a "live" talking pirate I brought to life using a wireless microphone while hiding around a corner. No scares, just lots of fun!