Analytics Installs, Tag Managers, Campaign Tagging and More!
Tracking visitor behaviors on your site is not an easy task. Just having your developers add Google Analytics code is not enough. To measure the objectives and interactions properly, you need to tag your site with code or a tag manager to track important conversions and micro conversions.
Sometimes this work needs your web development team, other times it can be handled within our analytics software interface or tag management solution.
Get a Web Analytics Consultant That Won't Break Your Site!
With over a decade of experience, countless columns, blog-posts, how-to guides and master classes taught, put someone to work for you that knows what their doing and can explain it in plain English to you.
[fourcol_three]
Analytics Consultancy Services
[unordered_list style="tick"]
Updating Analytics code
Converting from on-page code to tag management
Tag Management set up and configuration
Goals and goal funnel set ups
Event tracking
Campaign tracking, tagging and governance
Custom reports & report automation
Training – on-site or on-line
Web Analytics Auditing
And more!
[/unordered_list]
[/fourcol_three] [fourcol_one_last]
Google Analytics Certified Through 2017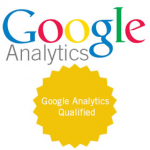 [/fourcol_one_last]
Hire Thom as a Web Analytics Consultant  Today!
[button link="/contact" bg_color="#019e5a"]Contact Thom Now![/button]