Because neither side is copying the other, both Google and Bing introduced new toolbars. Google's is really a redesign of the navigation bar above all the Google properties.Microsoft's Bing introduced an actual toolbar for Internet Explorer they're calling the Bing Bar. (Yes, they called it the Bing Bar. Sounds like a bad search marketing conference party venue, right?)
And again (and no one's copying here, right?) Microsoft accompanied the release with a conversational video that includes two "average Joe" Bing employees, which sharply resembles Google's product videos.
The New Google Nav Bar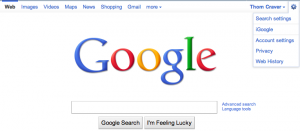 Google's nav bar indicates both graphically and textually.  For comparison, below is the old style of toolbar.

What does it mean? Nothing special, really. However, it symbolizes the unity and consistency Google has been trying to bring to their properties.
Microsoft's Toolbar for IE
Microsoft's toolbar, on the other hand, is a true toolbar add-on for Internet Explorer. Probably meant to bring users back to using their browser, the toolbar features interactive widget-like content that starts unobtrusive pop-ups of specific content. Bing search is the centerpiece of the toolbar and includes suggested search terms, your search history and what Microsoft calls "Deep Links."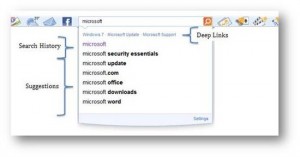 According to the announcement, the Bing Team talk to consumers who want search "front and center," not off to the side. The toolbar also includes news alerts, Facebook, maps, Bing Rewards and email. The email is not discriminatory, either. The demo video shows the toolbar quickly and seamlessly connecting to Gmail.
All the content appears smooth and integrated as part of a streamlined integration of tasks you want to accomplish.
From the video, Bing Bar project manager Charlie French: "A lot of people thought toolbars … are dying." Yeah, I'm one of them.  He continues: "We thought maybe the toolbars that exist today are dying. But if we build this from scratch and focus on performance … We built some really cool stuff… the rich data."
You can download the Bing Bar for Internet Explorer 7 or later, running Windows 7, Windows Vista or Windows XP with SP3.
I'm sorry. Seriously? "Bing Bar?!"