Sitting in a meeting, taking notes with Evernote and writing a blog post in two different tabs in Firefox, I have completely forgotten that my MacBook is still sitting in my bag, untouched. This is just one of my incredible experiences with the new Motorola DROID Bionic.
Its a dual-core phone with a GB of memory. It's on Verizon's 4G LTE network. Of course it is fast. The big draw for me, however, was always the intrigue of being able to plug the phone into a laptop dock that was supposed to make it function as a laptop. Surprisingly, I got more than I bargained for. Not only does the Lapdock mirror the phone (in a window!), but it contains a fully functioning FireFox browser. Yes, I can install extensions. Wow.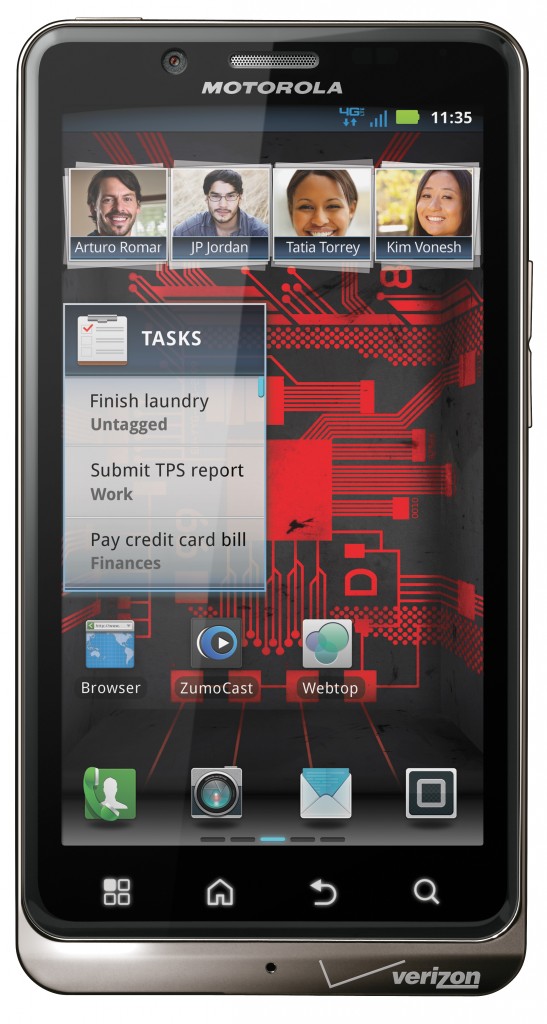 Essentially, this is a mobile Firefox browser on an 11.6″ screen with full keyboard weighing 2.4 pounds. It's attached to my phone and I'm grandfathered into VZW's unlimited data at their 4G LTE speeds, so I'm always connected. It has its own battery that lasts all day and can even charge my phone's battery, too. Everything now-a-days is web-based anyway, so where's the downside here?
Is it perfect? No. Keyboard and mouse movement is a bit slow. I actually type too fast for the browser to keep up with me. I'm sure I am an exception, however. Also, the phone runs low on memory quickly when loading sites that rely heavily on JavaScript. One such example, ironically enough, is Gmail. Google Analytics, however, seems to run fine for me.
However, the biggest take-away here is I'm using Firefox, with plugins familiar to me from my desktop, without the need to carry around a full-size (and weight) computer. I was able to sit through three full-length meetings, still text as heavily as I do all day long. I haven't made any calls today, but I've used this phone on the dock for over 4 hours total today and still have 70% battery power at 5:30 PM. Impressive. The dock still has 40% battery power, too.
The Motorola Atrix lapdock failed to sell well. I dare say that AT&T had to shoulder some of that blame. However, analysts claim the Bionic Lapdock won't sell either. I will agree, the price tag is hefty. There is a $100 rebate, if you buy the Bionic, lapdock and a certain Verizon Wireless data plan all together. But that still means you're shelling out $300 for a phone and $200 for the dock.
For my money, the lapdock accessory has truly made the Bionic a production device as much as a consumption device. A tablet (iPad, Android or otherwise) is still a limited device and most Web sites serve mobile pages to them. The lapdock gives me a full-blown Firefox browser. That means I now have full-version Google Docs, Gmail, Evernote and a variety of other Web-based services and sties available to me. Of course, I have the mobile app versions on my phone. In a pinch, that option still works. I'm used to carrying a 15″ laptop that weights 5.6 pounds along with my phone. I typically use it for Web-based applications and nothing more. The lapdock is smaller and gives me that same ability. Really, why not?
I'll entertain questions in the comments.